Book: "Davis Floyd and Southern Indiana at the Crossroads of America in the Early 1800s and Floyd's Florida Connection"
Davis Floyd (1774-1831) was an Indiana politician who had a life mixed within the very fabric of history, as we know it. His life has also been tangled with myths, legends, and questions. Davis Floyd was never the governor, the delegate to the U. S. Congress, a Supreme Court judge, or a general, but he was involved in almost every facet of the Indiana Territory, the young State of Indiana, and the Florida Territory.
Author, Ernest W. "Bill" Smith, of New Albany, Indiana, has turned his years of historical and genealogical research into a new book on the life of Davis Floyd. He offers it here for the casual researcher, professional historian, and interested reader.
Davis Floyd and Southern Indiana at the Crossroads of America in the Early 1800's and Floyd's Florida Connection, is full of information, stories, and intriguing investigations into accounts of connections with Queen Elizabeth I, Napoleon Bonaparte, Pocahontas, Aaron Burr, and others.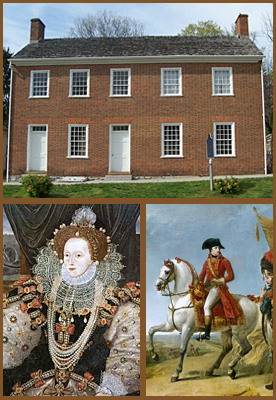 Pictured above is the house that Davis Floyd built in 1816, in Corydon, Indiana, that became the first "Governor's Mansion," Queen Elizabeth I, and Napoleon Bonaparte.
Sgt. Charles Floyd's memorial in Sioux City, IA
War of 1812 officer's saber and scabbard which belonged to Gabriel Jones Floyd.
About the Author
Ernest W. "Bill" Smith was born in Greenville, Indiana in 1937, and lives in New Albany, Indiana, with his wife Janet Schoen Smith. He has two children by a prior marriage, Eric W. Smith and Lara Smith Lawton. Janet has two children by a prior marriage, Kimberly D. Hogle and Gregory S. Hogle, and together they have seven grandchildren.
Bill went to high school in Jeffersonville, Indiana, graduating in 1955; then to Indiana University in Bloomington, Indiana, graduating in 1959; then three years in the U. S. Army as a tank officer and an Army aviator; then three years at the Indiana University School of Law in Bloomington, graduating in 1965. While in law school, Bill served in the 38th Aviation Battalion in the Indiana National Guard reaching the rank of captain.
In 1965, Bill started in the practice of law with Charles C. Fox in Jeffersonville. After Mr. Fox died, Bill grew the firm into a nine-person law firm. Bill was a general practice lawyer representing Clark Regional Airport near Sellersburg, Indiana for forty years and Clark Memorial Hospital in Jeffersonville for thirty-two years. He tried over 200 jury cases representing insurance companies in the defense of personal injuries claims. During the last ten years of his practice, he represented plaintiffs in personal injury claims against insurance companies. Bill served on various boards of directors, trustee boards, and advisory boards including Clark County United Way, Citizens Bank & Trust Company, Commerce-America Bank, Indiana National Bank, NBD Bank, Clark County Chamber of Commerce, Indiana University Southeast, New Albany/Floyd County Board of School Trustees, Floyd Memorial Hospital, and the Jeffersonville Carnegie Library. He was a forty-year member of the Jeffersonville Rotary Club serving one year as its president.
Bill is neither a professional historian nor a professional writer. He has always been interested in history from the time in 1946 that he, his sister, and his mother traveled across the continental United States from Washington, D. C. to Seattle, Washington to join his father who was an Army officer at Ft. Richardson, Alaska. He has been a member of The Athenaeum Society book club in Jeffersonville for twenty years where he has read over 200 books, a lot of them on history. Bill retired in 2007 from the practice of law. He has spent several thousands of hours reading, researching, writing, and rewriting a biography on the life of Davis Floyd, who was born in Virginia in 1774.