Are you a high school teacher looking to boost your qualifications to teach courses involving advanced technology?
Our M.S. Ed. program offers a concentration in technology that provides coursework for high school teachers seeking to enhance their knowledge and understanding of this field.
The concentrations consists of 36 credit hours focusing on teaching advanced methods and skills in the use of computing, as well as broader contextual courses on science, mathematics, and other considerations at the intersection of technology and the classroom.
It meets the required accreditation outcomes, prepares candidates with required research skills, guarantees that curriculum needs are met and adds the recognition of a concentration in technology to the M.S.Ed. degree.
Required Courses
Core Courses
Dept./Course #
Title
Credit Hours
EDUC-H 520
Education and Social Issues
3

Identification and analysis of major problems set for education by the pluralistic culture of American society.

EDUC-P 507
Assessment in Schools
3

This course is an introductory assessment course for teachers and school administrators. Topics of study include principles of assessment, formal and informal classroom assessment instruments and methods, formative and summative assessment, interpretation and use of standardized test results, social and political issues in assessment, use of student data based in school.

EDUC-J 500
Instruction in Context of Curriculum
3
EDUC-S 590
Research in Secondary Education
3

Prerequisite: Permission.

Capstone course for Teacher as Researcher Paper; or the individual research or study with a faculty member as arranged in advance of registration.
Secondary Education Course
Dept./Course #
Title
Credit Hours
EDUC-P 510
Psychology in Teaching
3

Basic study of psychological concepts and phenomena in teaching. Analysis of representative problems and of the teacher's assumptions about human behavior and its development.
Technology Courses
Dept./Course #
Title
Credit Hours
EDUC-R 531
The Computer in Education
3

Required of all students pursuing teacher certification. Introductory course on computing which includes Web, computer applications and hardware. Participants will learn to create and use a range of digital and Web tools to promote student learning in the P-12 educational settings and personal productivity. Contemporary digital instructional issues will be addressed.

EDUC-W 520
Technical Issues in Computer-Based Education
3

Prerequisite: EDUC-W 200 or EDUC-R 531 or consent of Computer Licensure Coordinator.

An examination of advanced uses of educational technology digital tools, resources in a K-12 classroom setting.

EDUC-W 540
Computer-Based Teaching Methods
3

EDUC-W 540 Computer-Based Teaching Methods (3 cr.) P: EDUC-R 531, R505, W506, and W520. Capstone course for the Computer Licensure Program. Focuses on the design, implementation, and assessment of computer and digital technologies when used to enhance student learning in the P-12 school curriculum, as well as professional development techniques.

EDUC-R 505
Workshop in Instructional Systems Technology
3

Prerequisite: EDUC-R 531 or consent of the Computer Licensure Coordinator.

Participants will learn to create and use a variety of contemporary multimedia applications and resources when used with a variety of operating systems in the P-12 school curriculum.

EDUC-W 506
Using the Internet in K-12 Classrooms
3

Prerequisites: EDUC-R 531 or the consent of the Computer Licensure Coordinator.

Participants will learn to access, and use a variety of contemporary Web-based applications and resources for the P-12 school curriculum. Students will gain experience in utilizing the primary Internet communication media.

EDUC-W 505
Professional Development Workshop: Virtual Field Trips
3

Workshop to meet specific professional needs.

EDUC-W 505
Professional Development Workshop: Coding in the Classroom
3
Advising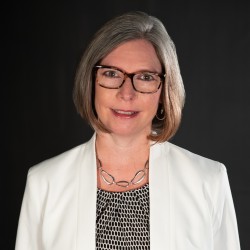 Dr. Donna Albrecht
Director of Graduate Studies School of Education
Director of New Neighbors Center
Associate Professor and Coordinator of Gifted, Talented and High Ability Program