Are you a high school teacher looking to boost your qualifications to teach dual credit courses in psychology?
Our M.S. Ed. program offers a concentration in psychology that provides coursework for high school teachers seeking to enhance their knowledge and understanding of this field in order to satisfy Higher Learning Commission (HLC) requirements for instructors of dual credit courses. The program requires 36-credit hours of graduate level work.
The coursework focuses on teaching advanced methods and skills in psychology through special courses in developmental psychology, organizational psychology, group behavior and more.
It meets the required accreditation outcomes, prepares candidates with required research skills, guarantees that curriculum needs are met and adds the recognition of a concentration in psychology to the M.S.Ed. degree.
Required Courses
Core Courses
Dept./Course #
Title
Credit Hours
EDUC-J 500
Instruction in Context of Curriculum
3
EDUC-H 520
Education and Social Issues
3

Identification and analysis of major problems set for education by the pluralistic culture of American society.

EDUC-P 507
Assessment in Schools
3

This course is an introductory assessment course for teachers and school administrators. Topics of study include principles of assessment, formal and informal classroom assessment instruments and methods, formative and summative assessment, interpretation and use of standardized test results, social and political issues in assessment, use of student data based in school.

EDUC-S 590
Research in Education
3

Capstone course for Teacher as Researcher Paper. Individual research with a faculty member, arranged in advance of registration. Research topic should be in the area of concentration, e.g. Educational Psychology.
Secondary Education Courses
Dept./Course #
Title
Credit Hours
EDUC-P 510
Psychology in Teaching
3

Basic study of psychological concepts and phenomena in teaching. Analysis of representative problems and of the teacher's assumptions about human behavior and its development.

And any one (1) of the following courses:
EDUC-S 514
Advanced Study in the Teaching of Reading in Jr. High/Secondary Schools
3

For junior high/middle school and secondary teachers as well as Reading Program candidates. The developmental reading program in junior high/middle school and secondary schools; use of reading in various curriculum areas, appraisal of reading abilities, and techniques and materials for helping reluctant readers.

EDUC-K 505
Introduction to Special Education for Graduate Students
3

Prerequisite: Graduate standing or consent of instructor.

Basic special education principles for graduate students with no previous course work in special education.

EDUC-R 505
Workshop in Instructional Systems Technology
3

Participants will learn to create and use a variety of contemporary multimedia applications and resources when used with a variety of operating systems in the P-12 school curriculum.

EDUC-L 520
Advanced Study of Foreign Language Teaching
3

Instructional techniques that support teaching English Learners (ELs). Emphasis will be on research-supported strategies for teaching ELs in K-12 settings and adapting curriculum in mainstream classrooms.

EDUC-S 508
Problems in Secondary Education
3

Group analysis of a common problem in the field of secondary education.

Or Any 3 credit Secondary Advanced Methods Course
Psychology Courses
Dept./Course #
Title
Credit Hours
PSY-P 502
Developmental Psychology
3

An advanced introduction to the theory and experimental analysis of ontogenetic processes. Special emphasis on human development.

PSY-P 505
Organizational Psychology
3

Prerequisite: consent of instructor.

Organizational Psychology involves the application of psychological principles and methods in understanding human behavior within organizations. Organizational Psychology focuses on such topics as employee motivation, employee satisfaction, counterproductive behavior, leadership, group behavior/teams, organizational communication, work stress, and organizational development. This course will incorporate both an examination of content and research in these areas, as well as the application of various techniques utilized by psychologists studying and addressing problems in these areas.

PSY-P 509
Group Behavior and Communication
3

Prerequisite: consent of instructor.

Review of major theoretical formulations and research on group processes. The objectives of this course are to identify and apply group communication processes.

PSY-P 624
Principles of Psychopathology
3

Prerequisite: graduate standing and consent of instructor.

Description of the phenomena of psychopathology and the principles associated with their classification.

And any two (2) of the following courses:
PSY-P 508
Applied Research Project
3

Prerequisite: consent of instructor.

Active participation in an applied (real world) research project. This may be an independent project or participation in an ongoing applied research project.

PSY-P 511
Seminar in Professional Skills, Legal Issues, and Ethics
3

This course provides a critical analysis of professional issues and the ethical and legal standards in the practice of psychology. Traditional and emerging practice areas will be discussed. Topics such as professional code of ethics, legal restrictions, licensure, prescription drug privileges, managed care, and treatment efficacy research will be explored. Ethical standards and decision-making will be studied in the context of professional practice.

PSY-P 521
Conflict Resolution and Mediation
3

Contact program advisor for status and description of this course.

Other graduate level psychology courses as approved by the Program Advisor
Advising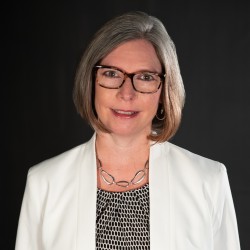 Dr. Donna Albrecht
Director of Graduate Studies School of Education
Director of New Neighbors Center
Associate Professor and Coordinator of Gifted, Talented and High Ability Program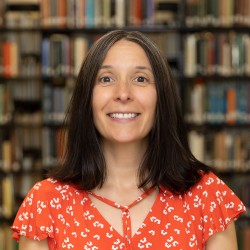 Meghan C. Kahn Ph.D.
Dean, School of Social Sciences
Associate Professor of Psychology and Neuroscience