Are you a high school teacher looking to boost your qualifications to teach dual credit courses in composition?
Our M.S. Ed. program offers a concentration in composition that provides coursework for high school teachers seeking to enhance their knowledge and understanding of this field in order to satisfy Higher Learning Commission (HLC) requirements for instructors of dual credit courses. The program requires 36-credit hours of graduate level work.
It meets the required accreditation outcomes, prepares candidates with required research skills, guarantees that curriculum needs are met and adds the recognition of a concentration in composition to the M.S.Ed. degree.
Required Courses
Core Courses - 12 credit hours
Dept./Course #
Title
Credit Hours
EDUC-H 520
Education and Social Issues
3

Identification and analysis of major problems set for education by the pluralistic culture of American society.

EDUC-P 507
Assessment in Schools
3

This course is an introductory assessment course for teachers and school administrators. Topics of study include principles of assessment, formal and informal classroom assessment instruments and methods, formative and summative assessment, interpretation and use of standardized test results, social and political issues in assessment, use of student data based in school.

EDUC-J 500
Instruction in Context of Curriculum
3
EDUC-S 590
Research in Secondary Education
3

Prerequisite: Permission.

Capstone course for Teacher as Researcher Paper; or the individual research or study with a faculty member as arranged in advance of registration.
Secondary Education Courses - 4 credit hours
Dept./Course #
Title
Credit Hours
EDUC-S 514
Advanced Study in the Teaching of Reading in the Junior High and Secondary Schools
3

For junior high/middle school and secondary teachers. The developmental reading program in junior high/middle school and secondary schools; use of reading in various curriculum areas, appraisal of reading abilities, and techniques and materials for helping reluctant readers.

And any one (1) of the following as approved by program advisor:
EDUC-W 505
Professional Development Workshop: variable title
1

Workshop to meet specific professional needs. May be repeated.

EDUC-K 590
Independent Study or Research in Special Education
1

Individual research or study with a Special Education faculty member, arranged in advance of registration. A one or two page written proposal should be submitted to the instructor during the first week of the term specifying the scope of the project, project activities, meeting times, completion date, and student product(s). Ordinarily, K590 should not be used for the study of material taught in a regularly scheduled course.
Composition Studies Courses - 20 credit hours
Dept./Course #
Title
Credit Hours
Consult with your English Program Advisor to select 5 courses that complement the desired discipline or subfield.
ENG-W 509
Writing and Literacy Studies
4
or
ENG-W 500
Teaching Composition: Issues and Approaches
4

Prerequisite: Graduate standing.

Consideration of fundamental issues in the teaching of writing and the major approaches to composition instruction.  Specific topics include teaching intervention and revision, diagnosing errors, teaching style and organization, making assignments, and evaluating student writing.

 
ENG-G 660
Stylistics
4

Survey of traditional and linguistic approaches to the study of prose and poetic style. Attention will center on the description of the verbal characteristics of texts, what those characteristics reflect about the author, and how they affect the reader.

or
ENG-L 646
Readings in Media/Literature/Culture
4
 
Any one (1) of the following:
ENG-W 510
Computers in Composition
4
ENG-W 553
Theory and Practice of Exposition
1-3

Primarily for secondary-school and junior-college teachers of English.

ENG-W 590
Teaching Composition; Theories & Application
4
ENG-W 620
Advanced Argumentative Writing
4
 
ENG-W 501
Teaching College Writing
4
or
ENG-W 600
Topics in Rhetoric & Composition
4
 
Any one (1) of the following:
ENG-R 546
Rhetoric and Culture
4
ENG-W 682
Special Topics: Rhetoric & Composition
4
Advising
Resident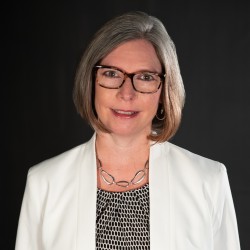 Dr. Donna Albrecht
Director of Graduate Studies School of Education
Director of New Neighbors Center
Associate Professor and Coordinator of Gifted, Talented and High Ability Program