M.S. Secondary Education Chemistry Concentration
Are you a high school teacher looking to boost your qualifications to teach dual credit courses in chemistry?
Our M.S. Ed. program offers a concentration in chemistry that provides coursework for high school teachers seeking to enhance their knowledge and understanding of this field in order to satisfy Higher Learning Commission (HLC) requirements for instructors of dual-credit courses. The program requires 30 credit hours of graduate-level work.
The coursework focuses on teaching advanced methods and skills in chemistry through special courses in areas such as inorganic chemistry, biochemistry, organic spectroscopy and more.
It meets the required accreditation outcomes, prepares candidates with required research skills, guarantees that curriculum needs are met, and adds the recognition of a concentration in mathematics to the M.S.Ed. degree.
REQUIRED COURSES
Core Courses (12 Credit Hours)
Dept./Course #
Title
Credit Hours
EDUC-H 520
Education and Social Issues
3

Identification and analysis of major problems set for education by the pluralistic culture of American society.

EDUC-P 507
Assessment in Schools
3

EDUC-P 507 Assessment in Schools (3 cr.) This course is an introductory assessment course for teachers and school administrators. Topics of study include principles of assessment, formal and informal classroom assessment instruments and methods, formative and summative assessment, interpretation and use of standardized test results, social and political issues in assessment, use of student data based in school.

EDUC-S 590
Research in Secondary Education
3

Prerequisite: Permission required.

Capstone course for Teacher as Researcher Paper; or the individual research or study with a faculty member as arranged in advance of registration.

EDUC-S 518
Adv. Study Teaching Sec. School Science
3

EDUC-S 518 Advanced Study in the Teaching of Secondary School Science (3 cr.) For science teachers. Improved techniques, current literature, textbooks, and free and low-cost materials. Solutions to specific practical problems confronting science teachers in the classroom and laboratory.
For a degree checksheet associated with the Chemistry concentration, please contact the School of Education at soeinfo@ius.edu.
Chemistry Content Area Courses (18 Credit Hours)

| Dept./Course # | Title | Credit Hours |
| --- | --- | --- |
| | Choose 15 credit hours from the following courses: | |
| CHEM-T 510 | Inorganic Chemistry | 3 |
| CHEM-T 520 | Organic Synthesis | 3 |
| CHEM-T 530 | Organic Spectroscopy | 3 |
| CHEM-T 540 | Physical Chemistry | 3 |
| CHEM-T 550 | Introductory Biochemistry | 3 |
| CHEM-T 555 | Survey in Chemistry (variable topics: organic, analytical, inorganic, etc.) | |
| CHEM-T 560 | Environmental Chemistry | 3 |
| CHEM-T 570 | Nuclear Chemistry | 3 |
| CHEM-T 580 | Physical Biochemistry | 3 |
| CHEM-T 525 | Forensic Chemistry | 3 |
| TBD | Other graduate level chemistry courses approved by Chemistry Program Coordinator | 3 |
| | Required capstone course: | |
| CHEM-T 590 | Chemistry Capstone | 3 |
Note: Education students cannot use 400-level courses toward dual credit teaching requirements. All coursework applied to your Master's degree must be completed within 6 years. No more than 9 hours of graduate coursework taken prior to admission to the Master's program will be counted toward the degree. Consult with your program advisor each semester or at least annually. Program requirements may change and you may be subject to new guidelines if you do not take coursework for more than one year. If petitioned and approved, up to 6 credit hours (grade of B or higher) may be allowed from other institutions; up to 15 credit hours may be allowed from other IU campuses. Petition forms are available from the School of Education. This check-sheet does not reflect the requirements of any other IU campus or licensing areas at IU Southeast.
Advising
For advising information contact Dr. Lisa Hoffman or Dr. Elaine Haub.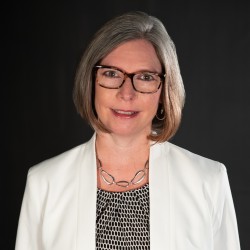 Dr. Donna Albrecht
Director of Graduate Studies School of Education
Director of New Neighbors Center
Associate Professor and Coordinator of Gifted, Talented and High Ability Program