Are you ready to expand your impact in today's diverse classroom? Our English as a New Language/English as a Second Language license prepares educators to deepen their understanding of their students' cultural and linguistic diversity and build on the assets they bring to the classroom. We provide a high quality program that provides teachers with the tools to advance the educational horizons of English learners. A teacher may be licensed after completing 15 credit hours and passing the required state exams. With additional courses, this program can be used as a concentration for a Masters of Elementary or Secondary Education, or for a plus 30 (Indiana) or Rank 1 program (Kentucky) for districts that participate in those programs.
UPDATE: Current teachers in Indiana can apply for Indiana Teachers of English Learners Licensure (I-TELL) funding for full financial support for tuition, fees, and books to complete licensure coursework. Find more information on the Indiana Teacher of English Language Licensure website.
LICENSE REQUIREMENTS – 15 CREDIT HOURS
All courses are 3 credit hours unless otherwise noted.
For an ENL/ESL license in Indiana, candidates must complete 15 credit hours of required coursework.
Required Courses
EDUC-L 524 - Language Education Issues in Bilingual and Multicultural Education
EDUC-L 540 - ESL/EFL Instruction and Assessment Approaches
EDUC-L 539 - Language Foundations for ESL/EFL
EDUC-L 502 - Socio-Psycholinguistics Application to Reading Instruction
EDUC-M 501 - Laboratory/Field Experience in ESL (Observations) (1 credit hour)
EDUC-M 501 - Laboratory/Field Experience in ESL (Teaching in local settings) (2 credit hours)
RANK 1 REQUIREMENTS FOR KENTUCKY – 24 CREDIT HOURS
All courses are 3 credit hours unless otherwise noted.
In addition to the required courses for the Indiana teaching licensure, those seeking Rank 1 in Kentucky must take 3 additional courses from the following options (9 credit hours). Teachers must be licensed in Indiana before adding endorsement to Kentucky license.
Rank 1 Required Additional Courses
EDUC-L 541 - Writing Instruction for TESL Teachers
EDUC-L 546 - Mentorship and Literacy Coaching of EFL/ESL Teaching (currently taught online via IU Bloomington)
EDUC-L 547 - Language Policy and Planning (currently taught online via IU Bloomington)
Additional Options of other related courses pend approval through petition (3-9 credit hours).
Upgrade to a master's degree
Admission Process
The ENL/ESL License Program features a rolling application process.
Communicate with Dr. Kelli Bernedo, program coordinator, to ensure your goals and our program align. kdehr@iu.edu.
Complete online application. The $40 application fee is currently waived due to COVID-19 but may be reinstated at any time. If you have questions about the application, please contact Tracy Stracener, Records Specialist at tstracen@iu.edu or (812) 941-2388.
You will choose Graduate Additional License in ENL, or if you wish to pursue your Master of Science, choose Elementary or Secondary with an ENL Concentration. Learn more about the MS program.
For your personal statement please state why you wish to join this program.

Complete the

 online self-evaluation survey.
Submit official transcripts of all undergraduate and graduate work completed at institutions other than an IU school. A 2.5 GPA for all undergraduate coursework, 3.0 GPA for all graduate coursework must be reflected on all transcripts. Mail these to the address below. Many universities also have an online delivery of transcripts. Those can be sent to this email: tstracen@iu.edu.
Also please send a copy of your current teaching license or state of eligibility. (Emergency license may be accepted for courses toward a permanent license, but please communicate with Dr. Bernedo to be sure.)
Contact Dr. Kelli Bernedo, Program Coordinator, at kdehr@iu.edu for more information.
Please send all completed materials to:
IU Southeast School of Education
Tracy Stracener, Records Specialist Hillside Hall 108A
4201 Grant Line Road
New Albany, IN 47150
or
email: tstracen@iu.edu
Advising
All candidates pursuing the M.S.Ed. degree with a concentration in ENL/ESL or a stand-alone ENL/ESL license must meet with Dr. Kelli Bernedo, the program coordinator. Contact Dr. Bernedo at

kdehr@iu.edu

to schedule an advising session. This can be conducted via email, Zoom, or an in-person meeting. The goal is to ensure that your goals and the program are a match and to ensure that we can meet your needs.

Candidates who are getting ready to finalize the program and need clinical placements for EDUC-M 501 (the ENL/ESL Practicum) must contact Dr. Kelli Bernedo for clinical placement, pre-requisites, registration in M501, and placements.
For more information, please contact Dr. Kelli Bernedo, the ENL/ESL Coordinator.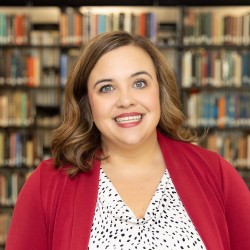 Dr. Kelli Dehr Bernedo
Assistant Professor and Coordinator of ENL/ESL Education
Resources