Special Education License
Are you ready to acquire skills needed to make a difference in the lives of students with disabilities and their families? Our licensure program in special education gives you the foundational and field-intrinsic knowledge you need in a systematic format combined with exposure to classroom practice.
License Requirements
Students complete 27 credit hours of graduate-level coursework that reflects a comprehensive approach to building skills to address the scholastic needs of students with mental, emotional, learning and other differences or disabilities.
Required Courses
All courses are 3 credit hours and require a grade of a B or better unless otherwise noted.
Students must have a current/valid teaching license.
Required Courses (27 Credit Hours)
EDUC-K 505 - Introduction to Special Education for Graduate Students*
EDUC-K 535 - Assessment/Remediation of Mildly Handicapped I
EDUC-K 553 - Management of Academic and Social Behavior
EDUC-K 544 - Emotional Disorders Methods II
EDUC-K 565 - Collaboration and Service Delivery
EDUC-K 580 - Curriculum & Methods of Education for Mental Disabilities
EDUC-K 500 - Topical Seminary in Special Education: Autism Spectrum (2 credit hours)
EDUC-K 563 - Learning Disabilities I
EDUC-K 590 - Independent Study or Research in SPED V.T. Response to Intervention in Literacy Instruction (Online and 1 credit hour)
EDUC-K 588 - Supervised Teaching in Special Education
*Required if K205 Undergraduate Course was taken prior to 2004
Rank I Change
Kentucky teachers may receive a Rank I with a total of 60 graduate credit hours in Education (or licensed teaching areas), including a master's degree. Post-masters work must be in a planned Rank I program, candidates must be admitted to a licensure program (Computer Education, Educational Leadership, ESL/ENL, Gifted and Talented, Reading, Special Education) to meet this requirement. The University must recommend the candidate to the Kentucky EPSB for the change in rank for Licensure Programs; this will include testing as required by the EPSB and a CA-1 application for the rank change. An Indiana license is required prior to adding an endorsement to a Kentucky license.
Admission Process
Communicate with Dr. Sarah Sehlinger, program coordinator, to ensure your goals and our program align and for advising: ssehlin@iu.edu
Complete online application. The $40 application fee is currently waived due to COVID-19 but may be reinstated at any time. If you have questions about the application, please contact Tracy Stracener, Records Specialist at tstracen@iu.edu or (812) 941-2388.
Choose the Special Education program that you are pursuing, or if you wish to pursue your Master of Science, choose Elementary or Secondary with a Special Education Concentration. You can find out more information about the MS program on the Graduate Programs page.
The online application will prompt you for a brief personal statement and will ask you to upload a copy of current teaching license or statement of eligibility, if applicable for your program.
Fill out this online self-evaluation survey.
Submit official transcripts of all undergraduate and graduate work completed at institutions other than an IU school. A 2.5 GPA for all undergraduate coursework, 3.0 GPA for all graduate coursework must be reflected on all transcripts. Many universities also have an online delivery of transcripts. Those can be sent to this email: tstracen@iu.edu
Please send sealed official transcripts to the Student Records Specialist at the following address:

Tracy Stracener, Records Specialist
IU Southeast School of Education
Hillside Hall 108A
4201 Grant Line Road
New Albany, IN 47150
Advising
For individual advising for the Special Education license, please contact Dr. Sarah Sehlinger or Dr. Donna Albrecht.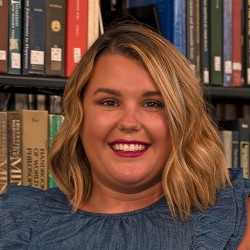 Dr. Sarah Sehlinger
Assistant Professor
Coordinator of Special Education