Ceramics at IU Southeast provides experience in a wide range of ceramic techniques, including hand forming, wheel throwing, glazing, clay body preparations, as well as numerous firing techniques. In addition, students explore mold making techniques, new developments in mixed media applications for ceramics, and investigate multiple contextual examples for how to incorporate an interest in ceramics into a broader art background. Students develop a background in ceramic history and aesthetics as well as strong technical expertise in the medium. Because of our excellent facilities and experienced faculty, ceramics at IU Southeast has attracted students from throughout the metro Louisville and southern Indiana region. Our graduates have earned post baccalaureate degrees in ceramics from colleges and universities throughout the country.
More information and images of the IU Southeast Ceramics Program can be found on The Clay Bucket website.
Find IUS Ceramics on social media at the IUS Ceramics Facebook page and the IUS Ceramics Instagram account.
Hover over the image to view the slideshow or view the complete collection.
Ceramics Studio Facilities
3280 square feet of studio, clay and glaze mixing, and indoor firing space
A ventilated main studio with 11 electric wheels with workspace for hand building, extruding, slab rolling, etc.
Brent slab roller
Brent extruder
Amaco ball mill
Ventilated clay mixing room with 3 clay mixers (Soldner Professional, Bluebird, Walker pug mill
Indoor ventilated kiln room with 2 gas reduction kilns (Bailey Car Kiln and a smaller gas kiln), 4 computer controlled electric kilns (Skutt and L&L)
45′ x 18′ covered outdoor kiln area with wood kiln, saggar kiln, raku kiln, and a cross-draft gas soda kiln
Ventilated glaze room with spray booth and stainless steel countertops
Material inventory of over 100 clay and glaze materials
Mixed media and plaster work area with outdoor access, plaster mold dryer, and compressed air
21 ton log splitter
Covered storage space for over 5 cords of wood for the wood kiln
Sandblaster
Lincoln arc welder
Drill Press
An assortment of hand and power tools
Private studios for 4 BFA students and 2 Post-Baccalaureate students
Additional storage space for student clay and shelving for artwork
The SpaceLab, an exhibition and installation space located in the Ceramics area.
More about the SpaceLab »
IU Southeast Ceramics Post Baccalaureate Opportunity
The Post-Baccalaureate Opportunity in Ceramics at IU Southeast provides students who have completed undergraduate studies at a school other than IUS a chance to build their portfolio so they can reach the next phase of their careers. More information can be found at http://claybucket.com/postbacc/
IU Southeast Ceramics Resident Artist
The IU Southeast Ceramics Program provides a yearlong Resident Artist position at the rank of Adjunct Faculty for an outstanding artist/educator. We look for someone who can be an active presence in the Ceramics studio and work alongside the other faculty and students in our program.
The position requires an active exhibition record and competence in a wide range of ceramic processes/techniques. The person hired teaches one beginning ceramics course each semester and work in the studio as needed to help with the basic operations of the IU Southeast Ceramics area. Teaching additional 3D design courses each semester is often an option, depending on course availability and qualifications.
Clay, glazes, and firing is provided within reason. A 90 sq. ft. studio in the ceramics area with a locking door is provided along with 24/7 building access. Additionally, an NCECA conference pass is provided. More information on the Resident Artist can be found at http://claybucket.com/resident-artist-opportunity-at-iu-southeast-ceramics/
IU Southeast Ceramics Visiting Artists
We have an active visiting artist program, usually hosting 2-3 artists per year. Our visiting artist program is a way to connect our students to contemporary working artists from around the country. Recent visiting artists include: Malcolm Mobutu Smith, Martha Grover, Lauren Herzak-Bauman, Blake Williams, Theo Uliano, David Katz, Mathew McConnell, Linda Lopez, Dylan Beck, Linda Swanson, Israel Davis, Teri Frame, Daniel Bare and Valerie Zimany. More information about our visiting artist program can be found at http://claybucket.com/ius-ceramics-visiting-artists/
IU Southeast Ceramics Faculty
There are two faculty members teaching in the IUS Ceramics Area: Brian Harper, Associate Professor of Fine Art and Ceramics Area Coordinator and Lindsey Dezman, Resident Artist and Visiting Professor.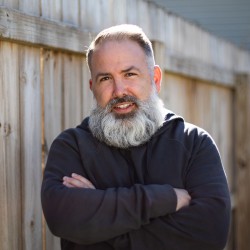 Brian Harper M.F.A.
Associate Professor of Fine Arts
Ceramics Area Coordinator