Graduate Certificate in Program Leadership and Evaluation
Are you working or seeking employment in a psychology-related field and wish to move up to an administrative position?
Our graduate certificate in program leadership and evaluation prepares you to succeed in a variety of administrative roles in psychology or other fields. Courses will provide insights into how organizations work, how to work effectively in group settings, how to locate funding and how to develop and assess the performance of institutional programs.
Required Courses
The graduate certificate in Program Leadership and Evaluation (PLE) will require five classes for a total of 15 credit hours.  The courses listed below are 3 credit hours and require a minimum grade of a B- unless otherwise noted.
Group Dynamics and Organizational Psychology
PSY-P 509 - Group Behavior and Processes, OR
PSY-P 505 - Organizational Psychology
Grant and Professional Writing
LBST-D 512 - Social Sciences Electives - Grant Writing
Professional Skills
PSY-P 511 - Seminar in Professional Skills
Communication Skills
SPCH-S 440 - Organizational Communication, OR
PSY-P 521 - Conflict Resolution and Mediation
Program Evaluation
LBST-D 512 - Social Sciences Electives - Methods of Survey Research
Admissions Process
Students can begin this program in either the fall or spring semester.
Deadlines for application are:
Spring 2021: January 2
Summer 2021: April 20
Fall 2021: August 15
To be admitted to the certificate program, applicants are required to submit the following:
Application form
Three letters of recommendation
A personal statement of educational goals
Documentation of undergraduate GPA of 3.0 or better
Applicants will also interview with the PLE faculty coordinator, Meghan Kahn Ph.D.
Advising
For more information, contact Dr. Meghan Kahn, Associate Professor of Psychology.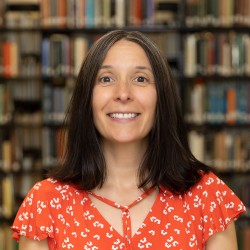 Meghan C. Kahn Ph.D.
Dean, School of Social Sciences
Associate Professor of Psychology and Neuroscience