Enhanced Active Learning Classrooms
It's not surprising that active learning strategies have been proven superior in assisting student learning. Classroom components– chairs, desks, technology – can hinder or facilitate active learning strategies. For example, it's much easier to ask students to work in groups if they can move their desks, chairs, or tables into small groups. Over the past several years, a number of units across IU Southeast have been working to update classrooms to facilitate active learning. In addition, the Mosaic initiative has provided support for these efforts. The IU Southeast Learning Spaces Committee, in collaboration with our Mosaic faculty fellows, have updated select classrooms to provide enhanced active learning opportunities.
Mosaic Classroom
In a Mosaic classroom, you can facilitate active learning through collaboration, sharing, and feedback. Features include whiteboard surfaces, screens, technologies intended for learner collaboration and presentation, as well as learner grouping, with furniture that allows for easy student collaboration.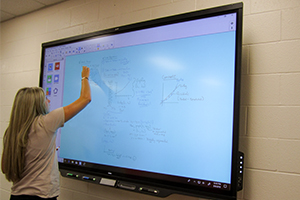 Locations: HH 202, HH 205, PS 008
SMART Boards
In classrooms with SMART Boards, you can combine the functionality of a whiteboard, computer, and projector into a single system. This practical tool allows instructors and learners to interact with materials on a large display that offers numerous options for engagement. These options include, but are not limited to: multimedia presentations, collaborative problem solving, and virtual field trips.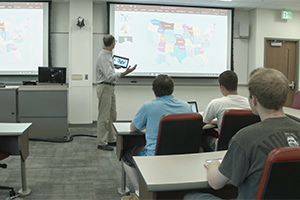 Locations: CV 211, HH 105, HH 208, KV 002, KV 014A, KV 101
Mersive Solstice
In classrooms with Mersive Solstice, you can wirelessly connect your laptop or mobile device to the rooms' display to share photos, videos, or your entire desktop. Instructors, students, and other users can connect with, share, and control content on the room's display from their laptops or mobile devices.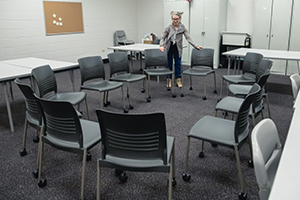 Locations: CV 211, HH 208, KV 002
Moveable Furniture
In classrooms with moveable furniture such as nesting tables and chairs, rolling tables and chairs, and pods, you can arrange flexible learning configurations. These rooms accommodate dynamic interactions, large group activities, small teams, paired collaboration, and shifting, or fast-paced interactions including games and role play.
Locations: HH 105, KV 015, KV 101
Learn 2 Chairs
In classrooms with these Learn 2 Chairs, group collaboration can be easily accommodated with rolling casters and adjustable, swivel writing tablets. These tablets can form a small group table or surface area. Learn 2 Chairs work well for think-pair-sharing, team activities, and large group discussions.