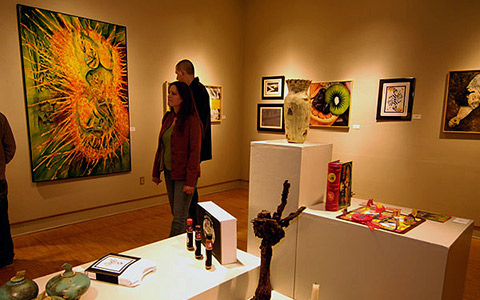 The IU Southeast Fine Arts program connects student learning and community outreach through exhibitions at the Ronald Barr Gallery. The gallery creates a positive image for our campus, and attracts a diverse group of individuals, including professional artists, students from local primary and secondary schools, IU Southeast students and faculty, and the general public.
The Barr Gallery hosts approximately ten exhibitions per year ranging between professional contemporary exhibits in all media to student led graduation exhibitions. Many of these exhibitions have received critical attention and have provided an accessible venue for the people in the Kentuckiana region to view cutting edge, contemporary artwork. The gallery provides additional programming through visiting artist workshops and lectures in a variety of visual art media and styles. All Barr Gallery events are free and open to the public.
In addition, the gallery is a showcase for student work. Students experience the installation of their own graduating senior (BA and BFA) as well as annual juried exhibitions. These exhibitions provide an opportunity for students to see their work in a professional context. The gallery also provides art history students the opportunity to curate and install exhibitions relevant to topics covered in their art history classes.
The Barr Gallery is a modern, 1200 square foot facility with full track lighting for walls and floor space. Features also include a hard wood floor and eleven-foot high, weight bearing walls.