The Music Department is housed in the Paul W. Ogle Cultural and Community Center, located on the 177-acre Indiana University Southeast campus in suburban New Albany, Indiana. In addition to benefiting the educational mission of the University, the Center provides facilities for cultural and civic activities for people in Southern Indiana and the entire Greater Louisville region. Along with the performance venues, the Ogle Center contains the Ronald L. Barr Art Gallery, classrooms, practice rooms, teaching studios, an electronic music studio, and a music listening/computer instruction lab. Music Department performances take place in three performing spaces in the Ogle Center: the Richard K. Stem Concert Hall, Stiefler Recital Hall, and the Robinson Theater.
Room Reservation Request
To request time in Stem Concert Hall, Recital Hall, Orchestra Rehearsal Room, Theory Classroom, or the Performance (Movement and Dance) Classroom, you must submit a Room/Hall Reservation Request Form.
Performance Halls
Richard K. Stem Concert Hall
The Richard K. Stem Concert Hall is the largest of the Ogle Center's indoor theaters. It is used primarily for performances of the Music Department, the Different Drummer Series and the Louisville Orchestra NightLites and OrKIDstra concerts. The Stem holds 500 seats including eight wheelchair locations. With only twelve rows in the orchestra and six in the balcony, each seat provides a clear, unobstructed view of the stage.
Stiefler Recital Hall
The Millicent and Norman Stiefler Recital Hall, holding 96 seats, creates an intimate performance and presentation space for the community. Like the Richard K. Stem Concert Hall, this hall has a large projection screen and has teleconferencing capability. The Recital Hall is used for faculty and student recitals, community meetings and conferences.
Robinson Theater
The Robinson Theater has a dramatic atmosphere that's unmatched. With its thrust stage, seven-story fly space and hidden trap doors, this space lends itself well to the IU Southeast Theatre Department productions, Opera/Musical Theatre Workshop, and Dance Recitals. The Robinson Theater has 338 seats and three wheelchair locations in a conventional aisle-seating configuration.
Audio Production & Sound Engineering Labs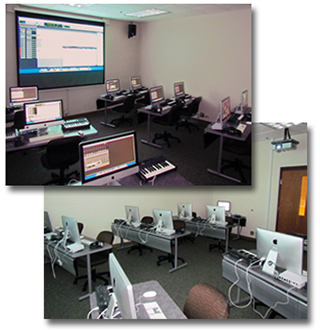 The audio production labs in the IU Southeast Music Department feature software and hardware recommended by film composers and audio professionals from around the world, enabling our students to produce projects that rival professional-level work. The music program has a 12-station audio lab where students learn the basics of audio recording, notation, and sequencing software programs. This lab also features the fastest internet access on campus for streaming audio and other applications. For advanced sound engineering and composition students, there is a 3-station film composition and sound engineering lab. Students in this environment learn techniques applied to composition and editing for film and live recordings using state-of-the-art equipment. Specific equipment used in the labs is listed below.
Audio Production Lab
(Computer Music Instruction Lab)
12 student stations that include:
iMac Intel Core 2 I5 stations
Oxygen 25 USB controllers
Presonus Audiobox Audio/ MIDI Interfaces
Pro Tools, Sibelius Adobe and Garage Band software
An instructor station containing all the above is connected to a projector and studio monitors.
Film Composition and Advanced Audio Production Lab
3 stations:
Complete film composition station with Mac Pro 12-Core, Vienna Instruments, LA Scoring Strings, Sibelius, 5.1 surround sound with Genelec 8030A studio monitors, Adobe Creative Suite, Pro Tools and Digi 003 Rack Factory Complete interface. Also included is an Oxygen 88 weighted key USB controller.
Complete Pro Tools station 24 inch IMac and Digi 003 interface. This station is connected to the Stem Concert Hall via a 16 channel snake for concert recording and recording sessions and is connected to a Digidesign Control 24 console/controller.
8 Core Mac Pro Audio/Video production station with Adobe Creative Suite, Pro Tools, and Logic Pro. Contains Digi 003, Yamaha Motif Keyboard and several outboard sound modules.
Stiefler Recital Hall Recording System
The 96-seat Recital Hall contains a Pro Tools LE system with a Millennia Media HV3 preamps, Presonus and DBX 386 Vacuum Tube mic Preamp. Microphones include Neumann KM 184, AKG 414, Audio-Technica 4033 and many others.
TNT Productions / IU Southeast Audio Production Labs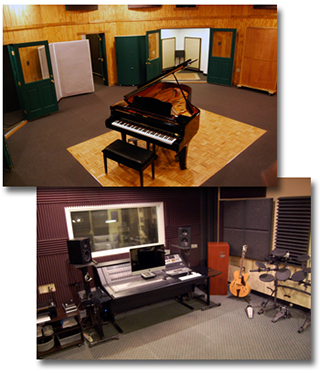 The IU Southeast Music Department and TNT Productions have formed a partnership agreement to provide real-world recording experience at TNT recording studios. This facility is unsurpassed in the area in its equipment and layout.
Studio A: The studio contains approximately 600 square feet of space with 14 foot ceilings. The acoustics are variable to allow for different recording approaches. Also included are 3 isolation rooms for acoustic separation. The 450 square foot control room allows plenty of room for the whole class to take part in the session. Equipment includes a Pro Tools HD3 recording system with Control 24 console/controller, Yamaha 7 Ft. Grand Piano, Vintage Hammond B3 organ, 2 drum kits and various other instruments and amplifiers. An extensive microphone and preamp collection includes brands such as Neumann, AKG, Royer, Sennheiser, Shure, Universal Audio, Focusrite, Mellennia Media and many more.
Studios & Teaching Spaces
The studios and teaching spaces in the Ogle Center are first rate, most containing computers and audio equipment. Additionally, several of the studios contain Steinway grand pianos.