Are you a college graduate seeking to move up in government administration or transition to government or a nonprofit from the private sector?
Our post-baccalaureate certificate in public sector management is designed to help students develop the unique skills required in government offices or nonprofit agencies, including written and oral communications, budgeting and managing personnel, the making of public policy and navigating the legal environment in which these agencies operate.
Required Courses
The certificate requires 15 hours, with a minimum cumulative G.P.A. of 2.0 to be awarded a certificate.
All courses are 3 credit hours unless otherwise noted.
Core Requirements
3 credit hours
POLS-Y 103 - Introduction to American Politics
Certificate Requirements
(12 credit hours)
Select four courses from the list below
POLS-Y 302 - Public Bureaucracy in Modern Society
POLS-Y 303 - Formation of Public Policy in the United States
POLS-Y 306 - State Politics in the United States
POLS-Y 401 - Topics in Political Science: Seminar in Grant Writing, cross listed with PSY-P 457
POLS-Y 402 - Politics of the Budgetary Process
POLS-Y 403 - Legal Issues in Public Bureaucracy
POLS-Y 404 - Political Issues in Public Personnel Administration
Admission Process
To apply for a Post-Baccalaureate Certificate, you must submit the following:
Application for Undergraduate Admission
(Apply by selecting Freshman in the applicant category)
A one-time, non-refundable application fee of $35 is required. This fee is not required if you have previously applied for undergraduate admission at any Indiana University Campus.
Official transcripts from the college/university awarding your bachelor's degree.
Advising
For more information and advising, please contact Dana Gohmann, M.Ed., lead academic advisor in the School of Social Sciences.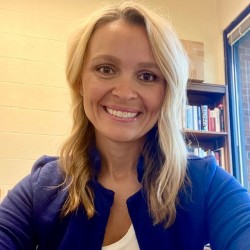 Dana Gohmann M.Ed.
Lead Academic Advisor
Assistant to the Dean