You are strongly encouraged to consult with an advisor before registering at IU Southeast. Advisors will review academic requirements, discuss prospective courses, and consider how those courses fit into your overall academic plan. They may also discuss the relationship between academic plans and prospective careers.
If you are a new student and have declared a major in the School of Natural Sciences, contact the school at (812) 941-2284 to arrange an academic advising appointment before enrolling.
Please note that advising is by appointment only and student ID's are required. Due to the fact that appointments are booked one after the other, students arriving over 15 minutes late will be asked to reschedule their advising appointment.
Faculty Advising
In addition to meeting regularly with a Professional Academic Advisor, it is recommended that students meet with a Faculty Advisor during the Junior and Senior years.
Meet the School of Natural Sciences advisors...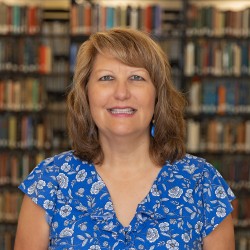 Shelia Gustafson M. Div
Academic Advisor
Adjunct Professor
Staff Council Vice President