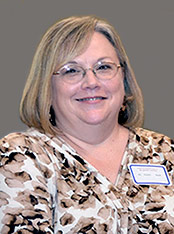 The School of Natural Sciences offers quality programs leading to IU degrees in Allied Health, Biology, Chemistry, Computer Science, Geosciences, Informatics, Mathematics and Physics. The faculty and staff at our school are committed to excellence in education, research and service and strive to provide special and personalized attention to each of our students.
Nearly 700 students major in various fields of natural sciences and are advised directly by our academic advisor and faculty. The rate of success for our graduates, who enter graduate and professional schools, is higher than 90%. Many of our alumni work in the community and are successful individuals who contribute to the economic, social, and overall development and welfare of Southern Indiana and the Greater Louisville area.
We hope that your questions can be answered at this site. If you desire additional information, please contact us at (812) 941-2284.
Sincerely,

Elaine Haub
Dean, School of Natural Sciences