L303 Field Biology (3 credits): Prerequisite: one semester of biology. A summer or intensive course designed to acquaint the student with natural biological interactions in the environment. The course consists of a period of field study in an area remote from the local campus. Orientation prior to and following course. May be repeated once for credit. This course fulfills the Ecology requirement for biology majors. This allows majors to complete their ecology requirement in less time and in a more interesting tropical site.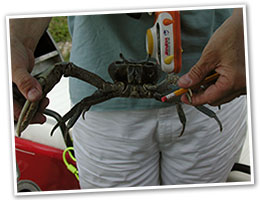 Field Biology L303 has received awards from respected educational groups for being recognized as an exceptional course.
Kentuckiana Metroversity, Inc.
1990 Award for Instructional Development
The Grawemeyer Award
1987 Award for Instructional Development
Special thanks to Dr. Claude Baker for all the work he has put in designing and implementing this course, all these years.
L303 is taught at the Indiana University Southeast Campus during the Spring Semester only. It is taught concurrently with Natural History of Coral Reefs BIOL L341 (4 credits). The class meets twice a week during the semester and travels during the finals week of the Spring Semester and returns by Graduation Day. See Schedule of Classes for instructor for the course, although other professors and chaperones will be present for the end of semester trip. The requirements for the class are as follows:
L303 is open to all students, both Natural Science majors and non-majors alike.
Credit from one prior biology class is required.
Permission of instructor is required.
The student must apply him/herself diligently to the required classroom research and attend all class meetings. Classroom work represents about 50% of the overall grade.
The student must be available for an excursion to a remote tropical location at the end of the semester. The trip represents about 50% of the overall grade. Students should take appropriate measures to ensure they can miss work or other engagements for approximately one week, as well as have sufficient funds to cover the cost of the trip. Click for more information on cost.
The student should be able to swim well and have no expressed fear of water. During the trip, much time is spent in the water.
SCUBA certification, while not required, is highly recommended. SCUBA classes may be offered if greatly needed by students.
The student must respond willingly to instructions, as the trip necessarily involves unfamiliar situations which demand compliance with authority.
The student must have a great interest in and respect for the environment.