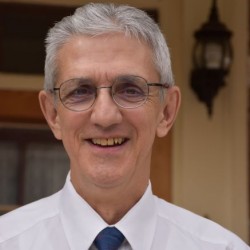 J. Michael Raley, Ph.D., D.M.A.
Paul W. Ogle Center 064
Paul W. Ogle Center 058
Phone: 812-493-7794
Fax: 812-941-2660
raleyj@iu.edu

Biography
Michael Raley studied trombone with Robert Lambert, Principal Trombonist of the Chicago Symphony, Edward Kleinhammer, Bass Trombonist with the Chicago Symphony, Lewis Van Haney, New York Philharmonic and Indiana University, and Ernest E. Lyon, University of Louisville. As a student at I.U. in Bloomington, he played Principal Trombone in IU's Philharmonic Orchestra and Assistant Principal Trombone in the Chicago Civic Orchestra. After his junior year he went to Europe to study at the Institute for Advance Musical Studies in Montreux, Switzerland. Later, he won auditions as Principal Trombonist with the Landestheater Schleswig-Holstein in Flensburg, Germany, and as Bass Trombonist with the Niederrheinische Sinfoniker in Krefeld, Germany.
Upon returning to the U.S. after several years abroad, Raley completed his B.M. degree at Belmont University magna cum laude, his M.M. degree in trombone performance at the University of Louisville, and his D.M.A. degree in musicology at the Southern Baptist Theological Seminary's School of Church Music in Louisville. Raley performed as the auxiliary trombonist with the Louisville Orchestra for nine seasons before leaving Louisville to direct church choirs in Georgia and northern Indiana. He later earned his Ph.D. in medieval history at the University of Chicago, where he played Principal Trombone in the University of Chicago Symphony Orchestra for several years.
Dr. Raley has taught low brass instruments (trombone, euphonium, tuba) at the University of Louisville, the Southern Baptist Theological Seminary, Kentucky State University, the University of Chicago, and Indiana University Southeast. He has been the recipient of research fellowships from the Max-Planck-Institut für Europäische Rechtsgeschichte in Frankfurt and the American Friends of the Herzog-August-Bibliothek in Wolfenbüttel, Germany, the Newberry Library in Chicago, and the University of Chicago. He is a member of Phi Mu Alpha Sinfonia and Pi Kappa Lambda, and also has served on the Publications Committee of the American Musicological Society. Dr. Raley is the co-editor (with Deborah Carlton Loftis) of Minds and Hearts in Praise of God: Hymns and Essays in Church Music in Honor of Hugh T. McElrath (2006), and the author of articles which have appeared in The Journal of Band Research, Canterbury Dictionary of Hymnology, The Sixteenth Century Journal, Journal of World History, Journal of Southern Religion, Ons Geestelijk Erf, and Anuario musical. He is currently the Principal Trombonist with the Louisville Philharmonia and the Commonwealth Brass Band.