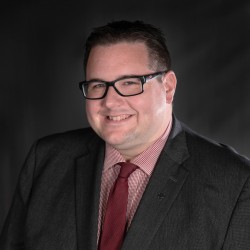 Joe Glover MBA
Univ. Center South Room 155
Activities Room 100D
Phone: (812) 941-2663
Fax: (812) 941-2665
joglover@iu.edu

Personal Websites
Biography
An experienced and proven higher education administrator, Glover has worked in several positions within the University. Glover is currently serving as Interim Vice Chancellor of Advancement, Alumni, and External Affairs.

Glover previously served as Director of Athletics at IU Southeast for 11 years. Glover was recognized for his efforts by his colleagues when he was named River States Conference Athletic Director of the Year 2013 and 2018. In May 2013, Glover was also named one of "20 Under 40 Best and Brightest" business professionals in a special edition of the Southern Indiana Business Source magazine. In 2017, Glover was named one the "Top 20 People to Know is Sports Business" by Louisville's Business First Magazine.
During his first five years at IU Southeast, Glover served as assistant athletic director and as sports information director. During that time, Glover's redesigns of the Grenadiers' athletic website resulted in web traffic increases of more than 95 percent. In 2009, Glover also designed and managed a complete web overhaul of the athletic department website which included the transition to the new IUSAthletics.com. In 2010, the NAIA-SIDA presented Glover with an award for his work on the IU Southeast website which was named runner-up for the Best NAIA Athletic Website.

In 2013, Glover was also selected by his peers as the Vice-President of the RSC Executive Committee, the highest governing body of the athletic conference. Glover served one year in this role before filling the vacancy as president of the league in 2014. In 2015, Glover began his official two-year appointment as Administrative Council President for the newly-named River States Conference. Glover also served as Interim Commissioner for the River State Conference for the 2017-18 academic year.

Glover is an involved member of the Southern Indiana community as well. He serves on several volunteer committees for the Community Foundation of Southern Indiana (CFSI). He also serves as secretary for the Floyd Memorial Foundation. He is also an involved member of the Knights of Columbus as a third-degree Knight.

Glover is also a member of the Rotary Club of New Albany where he is currently serving as the club's President. Glover is also a member of the New Albany High School Alumni Memorial Fund Board of Directors.

Glover is a double graduate of Indiana University. Glover graduated with distinction from IU Southeast in May 2008 with a Bachelor of Science in Business Marketing. Glover's dedication to academics earned him the honor of being named Outstanding Marketing Graduate, an honor given to only one graduating senior. In 2013, Glover earned his M.B.A. from the IU Southeast School of Business.

Glover and his wife, Melissa, who Joe met while they attended classes on the IU Southeast campus, live in Southern Indiana with their daughters, Annabelle (6) and Hadley (2). The family are members of Holy Family Catholic Church. Joe is a lifetime member of the IU Alumni Association.
Professional Interests
Teaching
Public Relations, Marketing, Professional Presentations, Introduction to Business, First-Year Seminar, Sports Broadcasting