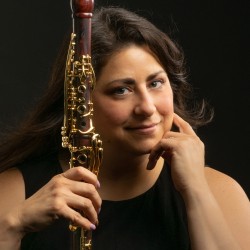 Carrie RavenStem
Personal Websites
Biography
Carrie RavenStem is a freelance clarinetist in Louisville, Kentucky. She is the co-founder and clarinetist of contemporary music ensemble A/Tonal as well as the co-founder and half of the clarinet duo La HERmandad. As a freelance musician Carrie has performed with several orchestras and ensembles in the area including the Louisville Orchestra, Kentucky Opera, Louisville Ballet, Louisville Chamber Winds, and Sacred Winds.
As a guest artist at the International Clarinet Association's ClarinetFest, in July 2018, she performed the solo work Perceptions of Strife, which was written for her in 2011 by Peter Felice. She was recently a guest artist for the world's first virtual woodwind festival, WoodWindFest 2020, as a guest performer of Silverstein Works. Her upcoming cd project, Yellow Bridge, will include 5 recently-commissioned works from Kentucky-based composers.
Her chamber group A/Tonal has been featured on WUOL's The Unheard Series and The New Lens series. The group's premiere EP, Starting Point, was released on April 2nd, 2017 at their Kentucky Center debut. A/Tonal has also served as guest clinicians at the Kentucky Governor's School for the Arts, and held residency at University of Louisville's School of Music in 2018-19, which resulted in five new chamber works for A/Tonal, written by students of the composition department.
Carrie is also the co-founder of La HERmandad, a clarinet duo based in Kentucky with clarinetist Adria Sutherland. The due made their virtual debut in Spring of 2021 with the International Clarinet Association's Clariedoscope Virtual Festival. They are currently commissioning works by female composers to support the growth of women in music.
Ms. RavenStem continues to work towards the advancement of new music as a member of the recently-formed New Music Committee for the International Clarinet Association. She is a clinician in the Kentucky area and frequently gives masterclasses and recitals for students of all levels.
In the spring of 2022, she will return to the stage of her alma mater, Indiana University Southeast, to perform the world premiere of Firefly, a new work for Eb clarinet and concert band commissioned by Indiana University Southeast and composed by Erich Stem.
Ms. RavenStem is a Backun Performing Artist and performs on Backun MoBa clarinets and Backun Vocalise mouthpieces. She is also a Silverstein Performing Artist and performs on Hexa Gen 5 ligatures.
Academic Background
Masters

University of Louisville, Louisville, KY, United States
Masters of Music, Major in Music Performance in Clarinet, Minor in Music Theory

Bachelors

Indiana University Southeast, New Albany, IN, United States
Bachelors of Arts, Major in Music Performance in Clarinet
Professional Interests
Research
Introducing audiences to music of living composers.