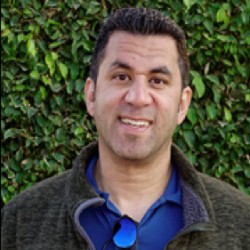 Dr. Omar Attum
Personal Websites
Biography
I earned my PhD from the University of Louisville, in which I lived in Egypt for over a year to conduct field work on which species would survive desertification. Afterwards, I was employed by the Zoological Society of London to study the populations of reintroduced gazelles in Saudi Arabia. I also lived in Jordan for two years with my wife and daughters as a Fulbright fellow to study the conservation issues of large mammals in arid environments, the biodiversity value of cultural landscapes, and the dynamics of Red Sea reef fish communities. I was recently an ACOR-CAORC fellow and studied the biodiversity value of archaeological sites in Jordan.
Academic Background
Postdoctoral Fellow

Purdue University Fort Wayne, Fort Wayne, United States
Postdoctoral Fellow

Doctorate

University of Louisville, Louisville, United States
Environmental Biology
Professional Interests
Teaching
As a professor, I regularly participate in professional development regarding educational best practices, student mental well-being, and student retention in order to better mentor students who are at a pivotal stage in their life. I take a project based approach to my classes by often incorporating my research. I teach Ecology, Applied Conservation Biology, Marine Biology, and Field Biology
Research
My research focuses on biodiversity loss, with an emphasis on trying to reverse species declines. This is achieved by using ecological concepts to address conservation issues. I have a diverse interest in conservation topics that include studying forest and urban ecology in the United States, wildlife reintroductions and ecology in the Saharan and Arabian deserts, and coral reef fish and shark populations in the Red Sea. I am also involved in long term population studies of the endangered Egyptian tortoise and coral reef fish community in Aqaba, Jordan.