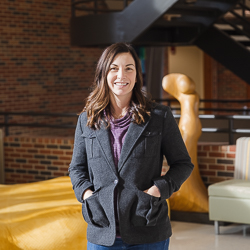 Barbara Kutis Ph.D.
Personal Websites
Biography
Barbara Kutis is an Associate Professor of Art History. She has taught at Indiana University Southeast since 2014. Prior to arriving at IU Southeast, she was a Visiting Assistant Professor at Swarthmore College; Tyler School of Art, Temple University; Rutgers University Camden, and the University of Delaware. Dr. Kutis received her Bachelor of Arts degree in Art History from Santa Clara University and her Master of Arts in Art History from the Pennsylvania State University, where she also served as a graduate curatorial assistant at the Palmer Museum of Art. Her Master's thesis Images of an Avant-Garde Mother: Joan Brown's Portraits of Her Son developed her interest in motherhood and maternal studies and lead to her dissertation, Artist-Parents: Nature, Nurture, and Identity in Contemporary Art, which she completed at the University of Delaware. Dr. Kutis's research interest include women, gender, and domesticity in contemporary art; issues of race, diasporas, and globalization; and the impact of terror in the art world. Her book project explores the intersection of art, gender, domesticity, and parenting in contemporary art. She is a member of the College Art Association, the Southern Humanities Council, and the Motherhood Initiative for Research and Community Involvement. She has published her research in n. paradoxa: International Feminist Journal, the Journal of the Motherhood Initiative, and in an edited collection titled, The Taste of Art: Food as Counterculture in Contemporary Practices. Her book, Artist-Parents in Contemporary Art: Gender, Identity, and Domesticity (Routledge, 2020) explores the intersection of art and parenting through the examples of artists Guy Ben-Ner, Elzbieta Jablonska, and the collective known as Mothers and Fathers.
Academic Background
Doctorate

University of Delaware, Newark, United States
Doctor of Philosophy

Masters

The Pennsylvania State University, University Park, United States
Master of Arts

Bachelors

Santa Clara University, Santa Clara, United States
Bachelor of Arts, Major in Art History
Professional Interests
Teaching
At Indiana University Southeast she teaches a variety of courses on modern and contemporary art, including women in art, Women in art in Africa, American art, art of the avant-garde, and art and terrorism.
Research
Contemporary art, maternal art, motherhood, gender and identity, globalization