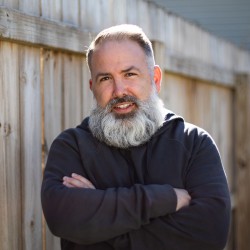 Brian Harper M.F.A.
Personal Websites
Biography
Brian Harper is an artist and Associate Professor of Fine Art and Ceramics Area Coordinator at Indiana University Southeast. He holds a BFA from Northern Arizona University and an MFA from the University of Iowa. His work has been exhibited in over 100 national and international exhibitions, including 7 solo exhibitions.
In addition to his studio practice and his teaching, he is the Founder and Executive Director of Artaxis Organization, Inc, a 501(c)(3) nonprofit art organization that promotes the professional pursuits of artists in ceramics and sculpture. Artaxis.org hosts the work of over 900 contemporary artists in over 50 countries worldwide and is one of the largest peer-reviewed collections of contemporary work in ceramics and sculpture online. Widely used as a resource by the general public, academia, and professional artists, Artaxis.org provides the opportunity to view a wide array of artwork relevant to the critical discourse in contemporary ceramics and sculpture.
More information about his work and studio practice can be found on his website at www.brianharperstudio.com.
Academic Background
Masters

University of Iowa, Iowa City, Iowa, United States
Master of Fine Arts, Master of Arts, Major in Ceramics, Minor in Sculpture

Bachelors

Northern Arizona University, Flagstaff, Arizona, United States
Bachelor of Fine Arts, Major in Ceramics
Professional Interests
Teaching
I am deeply committed to a life of learning. I believe in the quest for knowledge in a broad sense, understanding that knowledge comes from a range of pursuits: experience, mentorship, self-discovery, and searching for (and into) the things that offer wonderment and excitement.
I am an artist, an educator, and someone who feels an innate responsibility to contribute. With this in mind, I pursue my interests not as novelty, but as motivation to become better at what I do. As experience is gained, so too is the responsibility to give back to others – through the reach and breadth of my artwork, the example and mentorship I give my students, and by my efforts to broaden the opportunities available to others in my field.
Ultimately, I pursue these interests in search of new experience, working to synthesize these efforts in search of a better whole.