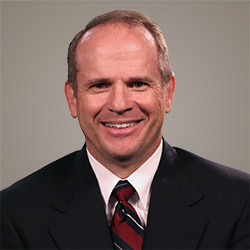 David M Baird
Personal Websites
Biography
When David graduated from Meade County High School located in Brandenburg, Kentucky, he never could have imagined what was in store for his life over the next 35 years.
The ride started at the University of Louisville where David graduated with his undergraduate degree and met his wife of 31 years, Lisa May Chenoweth. After graduation, David worked at U of L in the Admissions Office where he recruited Scholarship students. After two short years, life took the Baird family to Cincinnati, OH where David worked for Xerox Corporation. At that time, he also completed his MBA at Northern Kentucky University. In his last year at Xerox, David finished as a member of the President Club, a distinction to the top 4% of Xerox sales reps.
In 1994, David's church (where he served as a Deacon), Lakeside Christian Church, approached him about working with a non-profit organization, Woodland Lakes Christian Camp, that was in a financial crisis. David & Lisa agreed to work with the ministry and he left Xerox in 1995 to join WLCC. The Lakeside Christian Church Elders ordained David to service in the Christian Church.
After 5 years under David's leadership, WLCC had paid off the $500,000 note on its Lodge, built a Boy's Dorm, built two large cabins, replaced the utility infrastructure, expanded its main entrance, expanded its lake, and added a 2nd Chapel facility.
That's when Southeast Christian Church came calling and asked David to help start a brand new camp, Country Lake Christian Camp, in Henryville, IN. David worked with CLCR for 11 years creating a benchmark for the Christian Camp industry. While at CLCR, David was an active member of the Christian Camp Leaders Association Board and is a past Chairman of the Board.
But, the ride was far from over. In the fall of 2010, David formed an investment company, the Chenoweth Baird Group, LLC where he currently serves as the Managing Member and is the principle owner. That organizations charter is for the purpose of purchasing businesses. TCBG's first purchase was Jack's Tire Pros, in Greenville, Indiana.
It seems David wasn't busy enough because in the Fall of 2011, he began his stint as the Lecturer in Economics for Indiana University Southeast. It is here that David is able to enjoy his passion of teaching focusing on Economics, Entrepreneurship, and general business.
And finally, David and his wife started DIFJ, INC. doing business as TELL Center, an organization dedicated to Training and Equipping Leaders for Life. In June 2013, DIFJ finally received it's 501(c)3 designation from the IRS.
Academic Background
Masters

Northern Kentucky University, Highland Heights, KY, United States
Master of Business Administration

Bachelors

University of Louisville, Louisville, KY, United States
Bachelor of Science, Major in Business Administration
Professional Interests
Teaching
Economics, Entrepreneurship, General Business