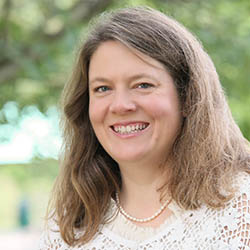 Melanie E. Hughes MLS, MBA


Coordinator of Technical Services
Academic Background
Masters

Indiana University Bloomington, Bloomington, United States
MLS Master of Library Science, Major in School Library Media Specialist

Masters

Indiana University Southeast, New Albany, United States
MBA Master of Business Administration

Bachelors

Indiana University Bloomington, Bloomington, United States
BA Bachelor of Arts, Major in English Literature & Jewish Studies - Religion of Ancient Israel
Professional Interests
Teaching
Information Literacy, STEM Education, Business Information Resources
Research
Archives, Digital Libraries, Photogrammetry, 3D, Education-Democratic & Sudbury & Montessori, STEM and STEAM, Children's Literature, Comics and Graphic Novels, Indiana Jewish History, Book Publishing, Entrepreneurship
Publications
Journal Articles
Griggs, C. B., Asim, S. & Hughes, M. E.. (2021). Touchstone: Activating 3D Artifacts in the Classroom. Oregon Journal of the Social Studies, 9(1), 61-72., 9 (1), 61-72.
Proctor, Christopher L., Courtney M. Block, and Melanie E. Hughes.. (2021). Disaster Librarianship: Reflections on Teaching and Learning from the Heart of the Campus. Journal of Teaching and Learning with Technology, 10 (1), 306-320.
Suh, E. K., Dahlgren, D. J., Hughes, M. E., Keefe, T. J., & Allman, R. J.. (2019). Conditions for Success: Fostering First-Year Students' Growth Mindset in Developmental Mathematics. Journal of The First-Year Experience & Students in Transition, 31 (2), 63-78.
Hughes, M. E. & McCracken, S.. (2017). Journey To Mecca And Home Again: A Library Intern's Pursuit of Her Career; A Mentor's Renewal To Her Profession. Reflections: Narratives of Professional Helping, Special Issue: Librarians as Helping Professionals, 23 (3), 28-35.