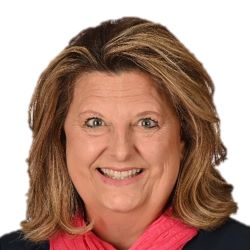 Rebecca Carlton M.A.


Coordinator of Introductory Courses in Communication Studies
Biography
Rebecca Carlton, Teaching Professor of Communication Studies, teaches public speaking, interpersonal communication, group and team communication, interviewing, business and professional communication, advanced public speaking, and college success skills/first-year seminar. She earned a Master of Arts in Communication from Ball State University, a Bachelor of Arts in Communication from IU Southeast, and a post-graduate certificate in Instructional Systems Technology from Indiana University.
Academic Background
Masters

Ball State University, Muncie, IN, United States
Master of Arts, Major in Communication

Bachelors

Indiana University Southeast, New Albany, IN, United States
Bachelor of Arts, Major in Communication

Masters

Indiana University, Bloomington, IN, United States
Post-Graduate Certificate, Major in Instructional Design
Professional Interests
Teaching
Public Speaking, Interpersonal Communication, Group and Team Communication, Interviewing, Advanced Public Speaking, Business and Professional Communication, College Success Skills/First-Year Seminar