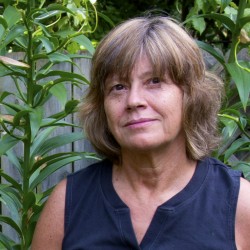 Debra Clem M.F.A.
Personal Websites
Biography
Debra Clem has exhibited in more than seventy group, invitational, and solo shows at the regional and national level since 1995. She has been the recipient of the Al Smith Fellowship from the Kentucky Arts Council, as well as five individual grants from the Kentucky Foundation for Women.
In addition, Debra has received many internal fellowships and grants from IU Southeast, where she is a full professor, heading the painting area in the fine arts program. She received the Museum Guild Purchase Award at the 55th Mid-States juried exhibition at the Evansville Museum in 2010 and has received residency fellowships to the Vermont Studio Center and the Virginia Center for the Creative Arts.
Clem was awarded the Distinguished Research and Creativity Award for senior faculty at IU Southeast in 2006. She was a graduate assistant at the Pennsylvania State University where she received her MFA degree in painting. She lives in Louisville, Kentucky and is the author of The Painting Guide.
Academic Background
Masters

The Pennsylvania State University, University Park, Pennsylvania, United States
Master of Fine Arts, Major in Painting

Bachelors

Bowling Green State University, Bowling Green, Ohio, United States
Bachelor of Fine Arts, Major in Painting and Drawing
Professional Interests
Teaching
Debra heads the painting program at IU Southeast where she teaches all levels of painting. Both oil and acrylic media are taught in the program. Students explore a wide range of oil and acrylic processes and techniques, as well as styles including abstraction and representation. Students are encouraged to develop their own personal styles in painting.
Many IU Southeast BA and BFA painting graduates have been accepted in prestigious MFA programs, including the School of the Art institute of Chicago and the Pennsylvania Academy of Fine Art.
Research
Debra Clem is interested in creating work that combines traditional techniques of oil painting with new technologies, such as digital imaging. Her large-scale, figurative paintings are created on canvas or canvas panel.
Teaching Resource Websites